Boost Social Presence
We can help you reach more of your target audience through the appropriate social media platforms.
Improved Reach
Draw in your audience with high-quality images and engaging content they want to read.
Great Content
All of your content will be written by professional American writers who can create engaging, informative content.
Instant Alerts
Use our free mobile app to get push notifications every time you get a call or new lead through your website.
Transparency
Quickly and easily see the analytics and in-depth insight into the success of your campaign with our free dashboard.
Simple Contracts
Sign up for our services on a month-to-month basis instead of being locked into a long-term contract.
Get More Reviews
Generate more reviews and improve your conversions by using our free review widget, which is installed right on your site.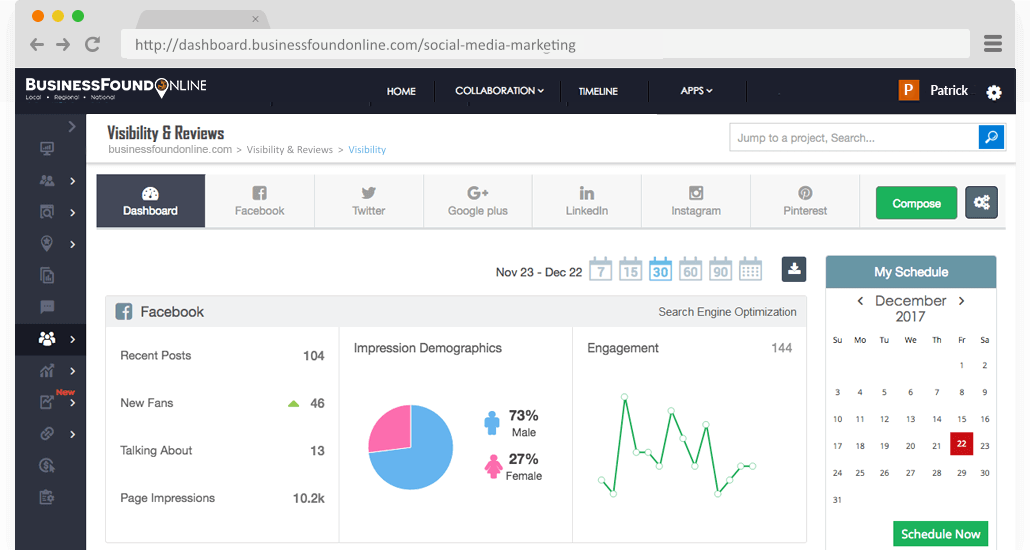 Social Media Advertising Can Work Really Well
A growing number of businesses are waking up to the benefits which social media advertising can bring. One of the major advantages of this type of awareness raising is that your advert is shown where the goods and services you're offering are already being discussed – if someone is discussing "open pizza parlors", for example, it's likely that your pizza parlor will come up in front of them, provided the geographical area corresponds. This allows businesses to closely target their audience.
We Can Work Across All Platforms When it Comes to Social Media Advertising
We are used to working with businesses who use everything from Instagram and Twitter through to Facebook and Snapchat, our team is versatile enough to work with a selection of different platforms to ensure your advertising gets to those people who are most likely to appreciate it. Not only do we make sure your company enjoys visibility in the right environment, we also work with you to ensure that the way you present is suitably appealing.
One-Stop for Social Media Advertising
From an initial assessment of your baseline statistics through to goal setting, initial research, planning, design, implementation, evaluation and assessment, we can undertake every part of your social media advertising campaign. Not only do we have the skills and enthusiasm to make your marketing a success, we also give our customers the ability to measure the value of what we do in terms of enhanced conversion, traffic and other positive behaviors.
Social Media Advertising Packages on Offer Now
For many companies, a package of support delivers the results they need with minimal hassle. If you want to take advantage of our variety of support options, or to find out more regarding what we are able to offer your organization, begin today by CONTACTING US 
Our Social Media Advertising Packages
All plans include FREE dashboard, website form lead tracking, review widget to get more positive reviews, automated weekly & monthly reporting and customer support via email, chat & phone.